Your Best Is Yet To Come
A counterintuitive system for 35+ men searching for health, happiness and purpose in the modern world.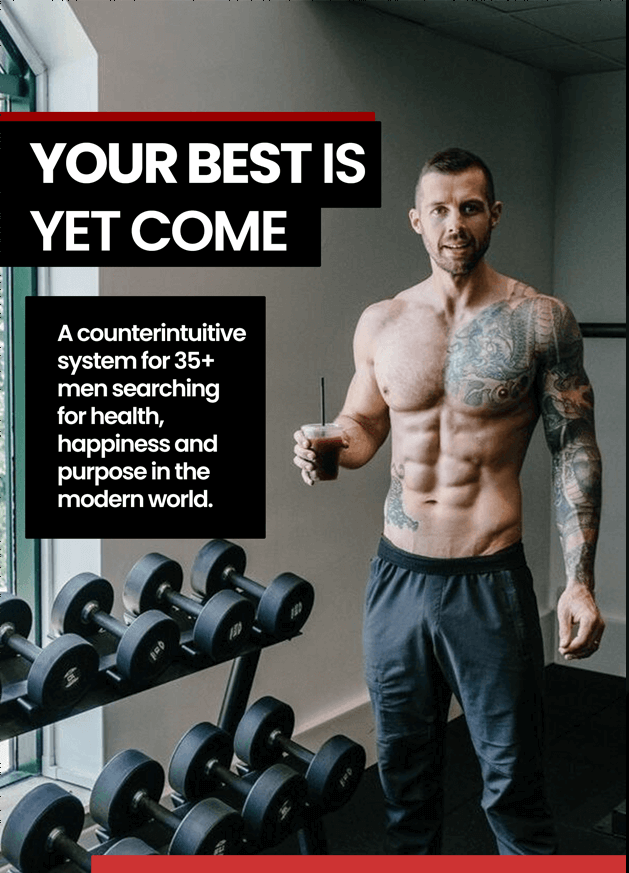 Are You Just One Book Away From Your Best Life?
What makes a superhero? Special powers? Fighting the villains? Saving the girl? No. A Superhero is simply a regular person capable of extraordinary things. 
That's why I consider all my Life Transformation Clients superheroes! 
You likely won't have heard of me. But you will undoubtedly have seen my work. 
Since 2007 I have been helping men transform their bodies. I'm the guy prepping the top actors in the world to get in superhero shape and also working with 1000's of everyday guys around the world with my online coaching systems. 
I would argue to say that myself and my team have possibly the biggest overview of what men around the world are struggling with right now. And I'm not just talking about fitness. 
If you look at successful people what do they have? What puts them ahead? 
Is it luck? Brains? Network? Or something else. 
Put two similar people with a personal trainer. One succeeds and hits their goals. The other struggles and makes little progress. 
Is it their genetics holding them back? A lack of time?
This book will challenge your beliefs. It will transform your thoughts and it will show you step by step the actions you need to take to live the best years of your life at your best. 
How can I be so sure?  Because I wrote this book for myself. 
For someone coming up from a dark place. 
You see i've struggled with substance abuse, anxiety, depression, focus and my relationships. 
With my job as a celebrity personal trainer I have had to paint a picture of my life. But it has never been real. 
For me this book was the turning point. The moment I took all of our high level coaching services and turned them on me. The moment I knew that we needed this. You and me.
Imagine if you could unlock your motivation and drive, regain your focus, energy and performance. Invigor your will to make positive changes both physically and mentally, all whilst getting in the best shape of your life?












Daily Habits
How to create daily habits for unstoppable forward momentum. A step by step routine that will not break.
Hormone Function
With each generation our testosterone levels decline. You may feel yours dwindling with low energy, focus, moods and performance. It's time to change this with our T reset protocol.
Sex Drive
We are doing it less. Doing it worse and we are distracted. Modern relationships have a disconnect, our sex drives are dropping. We are in trouble. Follow our system for more of the good stuff.
Training
I will show you how to train to optimise your results, life and mind. I will make sure you aren't making the 3 huge mistakes that 90% of our clients make that see them stuck with no progress, low mood and reduced T levels.
Sleep
How many hours of quality sleep are you getting? Enough for optimum health? Learn the importance of sleep and how to maximise it.
Managing Stress
Stress levels are destroying us. Our hormones, brains and bodies. Get the exact our action plan for a recovering stress head.
Bio Hacks
Access our 14 Bio Hacks that will jump start your progress. These quick wins take zero time and effort but are incredibly rewarding in making the steps towards change.
Nutrition
Food is more than just fuel. It's the foundation of who we are and even who our future generations will be (yes what you eat will impact the next generation) We will teach you how to make your nutrition work for you and how you can enjoy and sustain an optimum diet.
Sample
Motivation is like the stock market. 
Some days you are up. 
Some days you are down. 
Some days you feel like something the bull left behind. 
The truth? 
We can't and shouldn't rely on motivation.
People often ask me how I stay motivated to train and I get it. I have been training consistently for 20 years already after getting into high level sport at a young age. 
The longest I have ever had off training in 20 years? No more than a few weeks at one time. 
But when people ask me about my motivation I tell them I have none. My training and nutrition do not require or rely on motivation. I just do it. 
For anyone struggling with motivation this is the transition to long term success. 
Today I am going to run through how we can use motivation to start and then transition to routine, habits and rituals to get you where you want to be and keep you there. 
Your why…
1. Know your why – The bigger the why, the more achieving your goal means to you, the more likely you are to stay motivated and consistent
2. Understand that motivation isn't always going to be high – You'll have dips in motivation at times, which is completely normal, but remember your why and keep ticking the boxes even when motivation is lower 
3. Have a good support group – whether you invest in a coach, have a training partner, or have your partner come along for the ride, you can feed off each other's motivation to keep you going when times get tough.
Habits are key to success!
Your habits…
1. Your training routine – Don't try and do too much. When people try and do too much too soon they are setting themselves for failure. When we don't achieve what we hope it sets us up for disappointment. Creating a schedule that is sustainable and enjoyable is the foundation of every successful transformation. 
2. Focus on nutrition – Don't be extreme. If you can't see yourself eating this way in 5 years time then it's the wrong approach. You need to find a a way of eating that is enjoyable and effective. Don't cut out all your favourite foods or do anything drastic, instead focus on energy balance and sustainability. 
3. Dealing with sleep & stress – Poor sleep and high levels of stress kill motivation. This might just be the biggest area we see clients struggle and ultimately it is often the biggest fix. Poor sleep and stress not only make motivation suffer but they also impact your hormone function, appetite and recovery. 
Your actions…
1. Start the day right – Frame your day with positive actions. Take positive actions right away to set yourself up for the day mentally. Do ten push ups, drink a pint of lemon water, make the bed, tidy your desk. Any positive action here will start you on the right path for the day. 
2. Feel good – Training makes us feel good. Embrace this with training you enjoy. What types of training do you enjoy? Upper body sessions? Boxing? Walking? Not all training needs to "optimum" and not all training needs to be brutally hard. Take the time to do what you enjoy. 
3. Get results – Get early results with a "goal focussed" approach to secure positive drive. Create a plan of action based on your goals. Too many people don't understand what they need to do to get the results they want. Get clued up on the right types of training for your goals and calculate your nutritional needs to get there. Then get cracking. 
Thanks for reading this! I hope you found it useful. 
Our goal at DK Fitness is to help our clients transition to a life of health and fitness that allows them to feel like the person they want to be. Confident, organised and in the best shape of their life. 
Let's skip the fluff with this one. This book isn't about padding out pages. It's about actionable contact that makes a genuine and profound difference. I know you are likely busy. Business, kids, social and hobbies most likely. If you work with me through these pages you will come out the other side with the knowledge and systems to live your life to the fullest.
My biggest issue before hand was being stuck in a diet culture mindset: constant deprivation and restriction followed by the inevitable overeating. This helped me to break free from this cycle, I now concentrate on getting enough food during the day to fuel my body properly instead of cutting out meals or food groups to achieve a faster weight loss.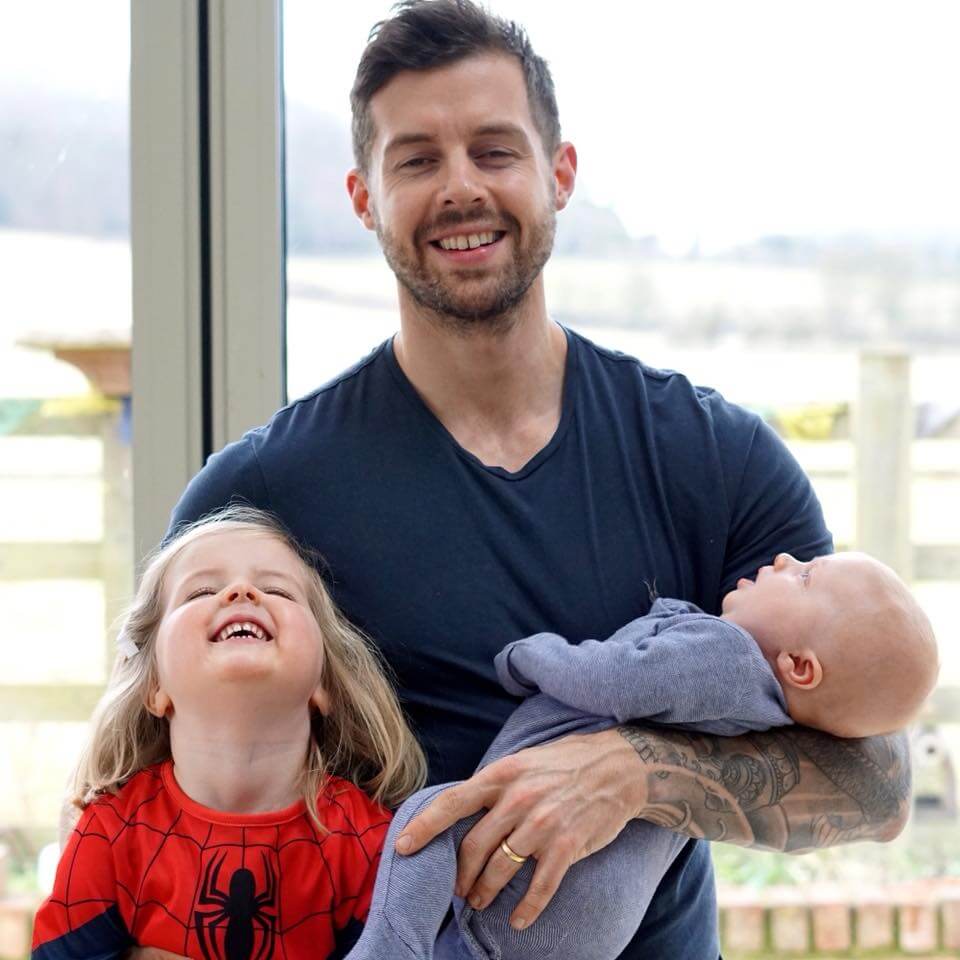 My name is David Kingsbury, I am 33 and a dad of two and we live in Buckinghamshire, England.
I have been a personal trainer since I was 17 years old and owned my own private personal training studio at Pinewood Film studios since 2010 and have just opened my second commercial gym K1 Beaconsfield.
I have been training my whole life in a variety of sports and always kept in good shape, whether it be for competition, to get female attention (until I met my wife) to look good on holiday or to keep up with the kids.
I am best known for my work as a personal trainer to the film industry where I have trained 50+ actors on dozens of films. Clients have included Hugh Jackman, Ryan Reynolds, Jake Glyenhall, Chris Hemsworth, Michael Fasbender, Eva Green and Jessica Chastain to name just a few!!!
GET THE OFFER NOW.
Your Best Is Yet To Come.
Download The eBook and Bonuses For Just $19.00!
  NOW AVAILABLE FOR INSTANT DOWNLOAD
Delivered instantly. Start reading in the next 2 minutes.
BACKED BY OUR UNCONDITIONAL
30 DAY MONEY BACK GUARANTEE